Hopefully you can use this;;
Do you have BOINC starting at boot? If so delete it from windows startup and reboot, that works for some people...
OK, the disconnected issue means that the BOINC manager is not able to talk to the BOINC daemon. Whether or not you are uploading/downloading/crunching at this point must be determined with the task list (I do not remember how to bring this up for 95/98/me).
The usual reason for this problem is that the BOINC manager is starting and trying to talk before the BOINC daemon is ready to listen. The usual fix is to wait a minute or two and see if connecting to \"\" or \"localhost\" or \"127.0.0.1\" works.
If the above fails, then there is a possibility that the BOINC daemon is not starting. If that is the case, then staring it manually may help. If it is installed as a service, run \"net start BOINC\" from a command line. If it is installed as single or multi user, cd to the install directory, and run BOINC.exe. If it is now running, you are the victim of a bug that has hopefully been fixed in 5.1.
If it is still not working, you have a problem with one of the XML files, and you will probably have to delete the directory and start over. (I have seen this problem much less with 5.1).
You might also go to the BOINC folder and look for this file \"gui rpc auth.cfg\" open with word pad and change the password to one you like make sure you enter a return at the end and then save and reboot computer then try the local host entry in select computer popup..... Check your firewall.
When all screens in Boinc Manager are blank, check that Boinc.exe is running. In Windows NT/2k/XP, rightclick on the Windows taskbar and choose Task Manager. Go to the processes tab and check if Boinc.exe is running. Check how many versions of Boincmgr.exe there are running.
If more than 2 of the latter, close them all down and restart one.
If Boinc.exe isn\'t running, please try a reboot of the computer first.
Close down BOINC.
Navigate to your Boinc directory.
Find the file called gui_rpc_auth.cfg, open it up with a word processor and delete password, then put a blank space followed by a carriage return, save file.
Then restart BOINC.
That will most probably fix it.
---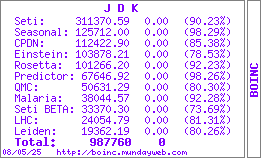 BOINC Wiki