600 Megs was for a slab model in the original pre-BOINC version of cp. This blew out to about 700Megs for slabs before they were stopped. (Most of the FAQ is for classic cp, still used for the OU course.)
Sulphur needs a couple of Gigs to be safe.
They have 5 phases instead of slab\'s 3, and the end of phase trickles are bigger; 8Megs for the first, 2 for the others.
After each phase is completed, data is zipped, so hd space used will drop again, and slowly build back up.
---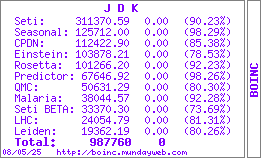 BOINC Wiki